AgQuip celebrated its 50th anniversary last Wednesday at the Aon site with the people who had seen the field day's rising success throughout the decades.
Among the group was ACM rural events general manager Kate Nugent, Gunnedah shire major Jamie Chaffey, inspector-general water compliance Troy Grant and one of the founders of AgQuip, Max Ellis.
The field day started as a group of businesses at the Gunnedah racecourse in 1973.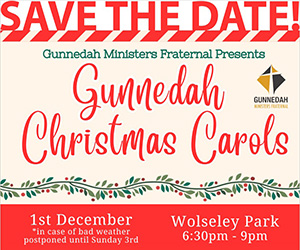 Over the years, many things have changed but farming innovation has been at the forefront since the beginning.
Due to this and the sizable number of products and services in one place, it has become an annual meeting place for rural Australians nation-wide.
A large thank you was given across many speeches for the exhibitors that continued to return to AgQuip each year.
The man that was mentioned many times was Max Ellis, one of the original founders of AgQuip.
He was able to recount the hard work of vital members from the beginning.
It was a big year for some of those first people, with many preparing for the first country music awards and the country music capital promotion.
He mentioned how the years had seen some modifications including the changing of CEOs, dropping the hyphen in 'Ag-Quip' and recently charging for entry.
Mr Ellis had the honour of cutting the anniversary cake alongside the many people who were involved with the field day's success.
ACM Rural Events general manager Kate Nugent has been at the forefront for AgQuip.
Gunnedah businesses and organisations were given a special mention, including the Gunnedah Shire Council which was a gold sponsor this year.
"I owe so much to our founder, Max Ellis, who created a philosophical foundation which set the course for success," Ms Nugent said.
"To Barry Harley, our longest serving CEO who chartered a successful course for development and growth.
"We have more than 1200 agriculture products and services on sight, more than 3000 companies represented, tens of thousands of visitors over the years spending tens of millions of dollars on machinery and services.
"Many have prospered through attending AgQuip and have made the event an integral part of their marketing program. We thank our exhibitors."
Gunnedah Shire Council mayor Jamie Chaffey made note of the community's support over the decades.
"Fifty years have been quite successful but another 50 years would be fantastic for this community as well," he said.
He acknowledged the impact that AgQuip has on Gunnedah in August of each year.
He also made special mention of his father-in-law who also attended those first crucial years of AgQuip.
"He would be very proud to know that 50 years has been successful here at AgQuip," Cr Chaffey said.
To order photos from this page click here