FROM THE MAYOR's DESK By Cr JAMIE CHAFFEY
The return of warmer weather means more than wattle blossoms and new lambs in Gunnedah – it signals the start of AgQuip.
The AgQuip Field Days, Australia's biggest agricultural field days, are an inextricable part of Gunnedah Shire's story.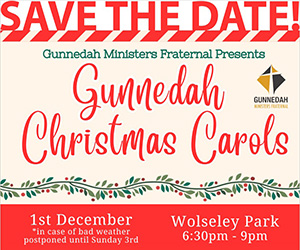 The event started here through the hard work and innovation of our farming community and a group of dedicated volunteers.
Their vision has endured, and AgQuip has remained in our shire, attracting hundreds of thousands of exhibitors, sponsors and visitors over the past 50 years.
It is now one of the biggest agricultural events in the Southern Hemisphere.
AgQuip has become an institution, and it has cemented Gunnedah as the birthplace of innovation in agriculture.
This is the place people from around the nation, and in some cases from around the world, come to see what farming will look like in the years ahead.
Cutting-edge technology, technical demonstrations, the latest in efficiency and sustainability – it all comes together on Gunnedah's 34 hectare site.
AgQuip is responsible for millions of dollars worth of sales and agricultural improvements and the gathering and networking of the national agricultural community. But beyond that, it has offered respite in times of drought and vital information to those who need it.
It is a valuable part of our community – and the wider agricultural community.
Alongside the bustling success that is AgQuip, is the supportive community of Gunnedah Shire.
The more than 13,000 people who call our shire home are not only a strong force among the exhibitors, the sponsors and the visitors, they are the people who provide accommodation, who cook breakfast, who provide goods and services and offer a smile in the street.
They are part of what makes AgQuip great.
I congratulate ACM Rural Events on once again accomplishing the mammoth task of making AgQuip a reality.
It is a very welcome part of our calendar that shows the world what we have to offer, and what a great destination Gunnedah is to hold events, big or small.
We are proud to be a sponsor and an integral part of this hugely significant event.
To order photos from this page click here