Federal Member for Parkes Mark Coulton had no trouble recalling the first AgQuip in Gunnedah – he was there as a young schoolboy.
"I don't know whether I want to admit it but I was at the first AgQuip 50 years ago with my little Farrer bag …," he said.
He recalled early days of the agricultural innovation and how the disc plow was one piece machinery "turning heads" at the time.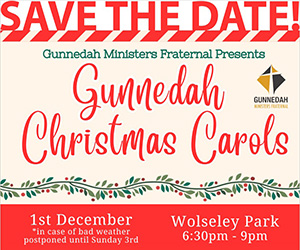 The former trade minister said north west NSW has served as a centre of excellence for the industry for generations with AgQuip a big part of that.
"Ag Quip has been an innovator and stimulus to supporting Australian agriculture," he said.
Mr Coulton was one of several guests who officially opened the 50th anniversary of AgQuip in Gunnedah on Tuesday.
Another attending was Minister for Agriculture, Fisheries and Forestry Senator Murray Watt who was also marking a special milestone on his first trip to AgQuip.
"I turned 50 this year as well so I think it's a pretty good landmark to get to," Mr Watt said.
The Labor minister said his government was investing more in biosecurity than any before it. It was also working to address critical labour shortages in the agricultural industry and how to adapt to climate change.
"We know [climate change] is going to be impacting on farm production," he said.
Mr Watt said the government was working to open more trade markets to India and the UK as well as stabilise Australia's relationship with China which he described as particularly useful for domestic barley producers.
Joining Mr Watt for the official opening of AgQuip was the Assistant Minister for Manufacturing and Assistant Manager for Trade Senator Tim Ayres.
He said the event offered "enormous opportunity" to showcase technology that will "drive better yields, better productivity and better outcomes not only for agriculture but for Australia".
Mr Ayres highlighted the government's $15 billion National Reconstruction Fund and attempts to restart domestic manufacturing in Australia, as a key pillar of the government's assistance for agri-sector.
"It is the biggest investment in Australian manufacturing since WWII," he said.
The assistant minister said at least $500 million of this fund would be allocated to co-investments in agriculture, forestry, fisheries, food and fibre.
Member for Tamworth Kevin Anderson congratulated all those involved on reaching AgQuip's 50-year anniversary – an event which was steeped in history and important part of the industry's continued success.
"Agriculture is strong and going very well," he said.
Gunnedah Shire Council mayor Jamie Chaffey was proud to see his local community showcase the best in agriculture while batting above its weight compared to bigger centres in the region.
"We are growing at a faster rate than Tamworth," he said.
To order photos from this page click here