By KEVIN ANDERSON, MEMBER FOR TAMWORTH
G'day Gunnedah and thank you for being such outstanding hosts for the many thousands of farmers and exhibitors who made the annual pilgrimage to AgQuip last week.
I hope those who attended found what they needed for their business for the next few years, or at least I hope you sniffed out an outstanding steak sandwich among the exhibits.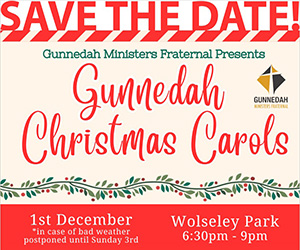 Thank you also to everyone who came by our stand to grab a steak sandwich.
It was good to be on the tongs alongside federal Member Mark Coulton and Member for New England Barnaby Joyce.
We're tallying up the takings from the week with all proceeds going towards Gunnedah Family Support in the coming weeks.
Reflecting on the 50-year anniversary of AgQuip, it's important that we recognised the organisers who over the years built the event into the success it is today.
Back in 1973, Max Ellis saw an opportunity to grow the farming sector in the region and from there, the event has been run and managed by hard working locals like Jim Hynes, Barry Harley and now Kate Nugent.
The legacy of their hard work is that AgQuip has become a critical event on the social and business calendar for farmers, manufacturers, suppliers, residents, and school children alike.
With AgQuip behind us, I'm now looking forward to the next significant event for our region, which will no doubt be the NSW Budget on September 19.
I am deeply concerned about what this budget will mean for regional and rural NSW. If all signs are to be believed, funding opportunities for our regions will be slashed.
The former Coalition government made $3.3 billion in funding available specifically for the regions under the Regional Growth Fund, which fed important funding opportunities like the Stronger Country Communities Fund, Resources for Regions, Regional Job Creation Fund, and more.
These funds have fed millions of dollars into the Gunnedah community, and it would be devastating if that funding dried up at the upcoming Labor budget.
I'll continue to push on behalf of our communities right up until the budget is handed down on the 19th of September because I know the positive social and economic benefits these opportunities bring to communities like Gunnedah.
To order photos from this page click here