A car park for Gunnedah's long awaited off-leash dog park is currently under consideration after a motion was raised at the council's October ordinary meeting.
Gunnedah Shire Council approved a slight adjustment to the area opposite McAndrew Park in the September council meeting.
The project is scheduled for completion by the end of the financial year with funding allocated in the 2023/24 Operational Plan for the dog park.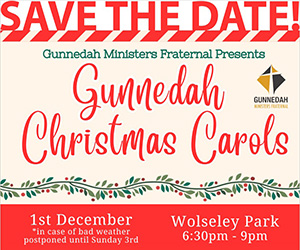 Councillors this month unanimously supported an investigation into the cost of producing car parking on site.
The motion was raised by Cr Juliana McArthur with concerns about the safety of moving in and out of a car on a busy street with an animal.
"What we do have is the verges of the Wandobah Road which anyone who lives in that area or travels it regularly will know, that it is a very heavily trafficked area including with trucks," Cr McArthur said.
"Sometimes on an afternoon if you head home that way, there are children playing tennis or riding skates on the road which is not ideal," she said.
She highlighted a bend in the road near the proposed park, which would make it difficult to see cars leaving or entering driveways.
She called for the investigation into what it would cost to provide a car park in the area already designated for the dog park.
The existing footpath on the street is used for pedestrians and cyclists.
Further concerns were raised when considering a person with a dog and children attempting to disembark from vehicles on the roadside.
"I am concerned about the safety aspect so I recommend this motion [to investigate car parking on site]," Cr McArthur said.
The suggestion was made for 20 car parks, with 10 each side, but the councillor was open to advice and consideration of the cost.
Concern was given about the time it had already taken to start the project.
It was envisioned the car park would be built at the same time as the dog park.
"I don't wish to delay the off-leash dog park area. I suppose it comes back to what we can afford once we've got the report from council," Cr McArthur said.
It was agreed further conversation about car parking will take place following the director's advice.
The off-leash area has been anticipated by the public for some time, including Gunnedah dog owner Karla Ward. She thought it will be useful for other owners to safely exercise their pets.
"I think it is a wonderful opportunity for all dog owners in the Gunnedah area," she said.
"It is something that we have needed for a very long time, somewhere to take our 'fur babies' that is safe and is designed for them."
Ms Ward agreed that parking may be favourable, especially for those travelling with their dog.
"Parking will be beneficial for people who are bringing their dogs in from all areas of the region," she said.
To order photos from this page click here