Up to 800 children across North West NSW are set to benefit from greater access to critical medical support each year as non-profit organisation, Little Wings, announced it is partnering with Whitehaven Coal to bring its Medical Wings program to Narrabri and Gunnedah.
"We are extremely grateful to companies like Whitehaven for helping us expand our services into pockets of NSW that are in desperate need of specialist medical services," announced Little Wings CEO, Clare Pearson.
To launch the program expansion, Little Wings and Whitehaven warmly invite the Gunnedah community to attend an information session at Gunnedah Bicentennial Creative Arts Gallery.
This will provide an opportunity for health services organisations, medical professionals, governments and the local community to come together to understand the challenges and opportunities available for regional families.
"Every child deserves access to the best possible healthcare and this donation will help our doctors reach more and more kids in need. Ultimately this will allow us to assist in rebalancing the inequities that exist in our healthcare system," Ms Pearson said.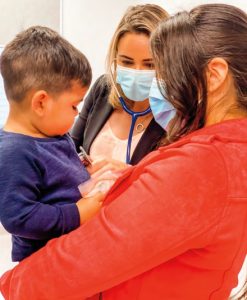 Whitehaven's $25,000 contribution will support the delivery of about 16 free pop-up medical clinics in partnership with local hospitals, Aboriginal medical centres and general practitioner clinics to ensure families can access healthcare support where it is needed most.
"The Medical Wings program will also help to fund face-to-face training and provide support for regional healthcare workers as we strive to improve health literacy. Over 30 per cent of the families Little Wings assist identify as Indigenous and we are committed to removing barriers to accessing healthcare for many in these communities, which we know is something Whitehaven is also very passionate about," Ms Pearson said.
Whitehaven Coal general manager community engagement, Darren Swain, said the company is thrilled to be playing a role in launching Medical Wings in North West NSW and supporting children with serious medical needs.
"The Medical Wings program does this and we are proud to be involved with the team at Little Wings. We have all seen the positive impact their flight service has had and it is great to now bring their medical expertise to our local communities," he said.
"We are committed to building local community capacity through intergenerational investment in health, skills, infrastructure and education.
"There is nothing more important than our kids' health and this free service will help to provide medical support where it is needed most. We look forward to working with the Little Wings' amazing team of doctors, pilots, and volunteers as the program is rolled out in the coming weeks."
Information session
WHEN: Wednesday, November 8, at 6pm.
WHERE: Gunnedah Bicentennial Creative Arts Gallery.
ADDRESS: 81 Chandos Street, Gunnedah, NSW, 2380.
TICKETS: Free entry – bookings essential.
Refreshments provided.
BOOK NOW: [email protected]
Limited seats available. RSVP by Friday, November 3, 2023.
To order photos from this page click here