Those searching for a one-of-a-kind item or a gift with a unique difference, need look no further than STS 3D Concepts.
Based in the Gunnedah shire, the 100 per cent locally owned and operated small business is leading the way in custom-made designs for all things "technical and nerdy".
Using its commercial-grade 3D printers, STS 3D Concepts can manufacture everything from small industrial components, home décor and toy figurines – even edible chocolate creations.
If the customer can think of it – STS 3D Concepts can probably produce it.
Managing director Theresa Stuckings said the business also specialises in the manufacture of LED safety flags.
Flags can be ordered in any length and colour to suit off-road enthusiasts, farmers and the mining industry.
"As safety is a big focus in the mining industry, this led me to develop a better design that is more durable for the LED safety flags that are used on the mine site vehicles," Ms Stuckings said.
"These have quickly become a large part of the business and have been running very successfully at Maules Creek coal mine for more than 12 months."
Although the flags are not produced by the 3D printers, many other products are being manufactured by the new technology.
"My husband's love of 3D printing inspired me to delve deeper into this field, and I now focus heavily on industrial 3D prints for mining equipment made from various materials, as well as creating figurines and knick knacks for gifts and decorations," Ms Stuckings said.
"I have been a part of the community all of my life, and I saw the need to try and provide the local mining industry, businesses and individuals with good quality, locally manufactured products."
The 3D prints which require industrial-strength are made from a carbon fibre material that is as strong as metal. Other products like figurines, are created using liquid resin which is set solid by UV light inside the printer.
Items can be manufactured for a variety of purposes – for example, some figurines have been ordered to replace lost or broken pieces on board games, other designs have been requested for memorabilia collections, while some made are gifts based on characters from films.
More recently, STS 3D Concepts invested in a 3D chocolate printer to make edible designs.
The Willy Wonka-inspired creations use a special type of chocolate which produces decorations for cakes and special events. The designs not only look great but taste good too.
"Prices are kept as low as possible so as to encourage support from the locals, and I hope that even the big companies are willing to support a small local business," Ms Stuckings said.
"My aim is to provide locals as much as possible, and to expand the business to be able to buy a bigger printer to be able to print larger objects."
To enquire about your next 3D creation, contact Theresa via email at: [email protected]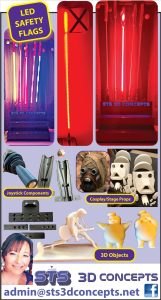 To order photos from this page click here