St Xavier's swim team smashed 11 individual carnival records and one relay record at the Armidale Diocesan swimming carnival last Thursday, with four age champions and three runners-up in a day of strong competition.
Held at Gunnedah Memorial Pool in showery conditions, the annual swim meet attracted 300 competitors from 20 diocesan primary schools, with a team of 17 St Xavier's athletes selected to contest the Combined Catholic Primary Schools championships (Polding) on March 22.
Four diocesan records were broken by speedster Jacob Smith – 12-13 years 50m freestyle 30.11 (previous record 30.45, 2019), 50m backstroke 34.95 (previous record 36.38, 2010), 50m breaststroke 41.93 (previous record 42.03, 2010) and the 200m individual medley 2:50:82 (previous record 2:55:13, 2021).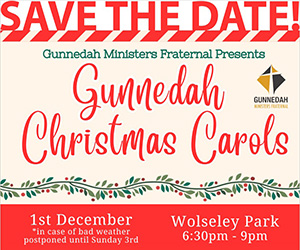 Molly Ramien (10) was also in fine form at the carnival, shattering records in the 50m butterfly 37.39 (previous record 39.84, 2007), 50m freestyle 34.01 (previous record 35.55, 2015), 50m backstroke 40.42 (previous record 42.75, 2018) and the 200m individual medley 3:11:53 (previous record 3:18:1, 2016).
In the junior division, Joshua Spinks broke the 50m freestyle mark stopping the clock at 33.64 seconds (previous record 34.1, 2006), 50m butterfly 37.88 (previous record 39.69, 2006), and the 200m individual medley 3:16:33 (previous record 3:18:6, 2006).
The junior girls relay team of Alexis Campbell, Hannah Akinyemi, Molly Ramien, Josie Knapman, was too hot for the opposition shattering the diocesan record of 2:45:00 set in 2014 with a sizzling time of 2:41:73.
The junior age champion trophies (8-10 years) were awarded to Joshua Spinks and Molly Ramien, with Hannah Akinyemi the junior girl runner-up.
St Xavier's took out the quinella in the 11 years age championship with rising young stars Alexis Whitton and Jacob Smith, winning the point score closely followed by fellow students Matilda Denovan and Baxter Knapman who were runners-up.

To order photos from this page click here