Carter's Pharmacy is a new business name in Gunnedah with a partnership between Karen Carter and her son Justin and a re-branding of Karen Carter Chemist offering the same familiar faces and friendly service.
Plans for Justin to become a partner in the business began in late 2021, with Justin keen to become a business owner, to be involved in decision making and sharing his ideas for the business.
Karen Carter said it is wonderful to be working with Justin and she is very happy for him to be involved.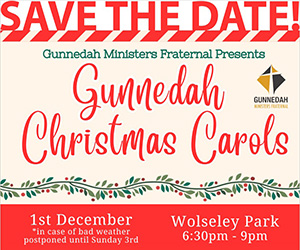 "This allows me to teach him the financial side of the business and
Justin can also bring his enthusiasm and new ideas to the business," she said.
"My husband David is managing the book work to allow us to have more time for our patients."
Justin Carter's pharmacy journey began at the age of 14 when he worked some weekends with his mother at Karen Carter Chemist, doing 'bin duty' and helping where needed.
"When I was at boarding school and coming home for holidays I would work as a dispensary assistant helping to process prescriptions and serve customers," Justin said.
"I finished school in 2014 and thought that becoming a pharmacist like Mum would be a great career option to continue to help serve our community and to better improve the health of our customers.
"I went to university at Orange and studied pharmacy for four years and would come home during uni break to further reinforce my learning at uni and apply it to practice."
Justin's placements during university included assisting at Lundie House, Gunnedah, at a pharmacy in Young and also Royal Prince Alfred Hospital in Camperdown.
"I finished university in 2018 and started my internship at Karen Carter Chemist where I further practised and continued to develop my counselling skills, along with a greater interest in diabetes management, sleep apnoea and mental health," Justin said.
"I have worked at Narrabri Pharmacy over the last two years which enabled me to see a different practice and different patients."
Justin completed his internship in 2019 and was a fully qualified pharmacist in March 2020 when COVID first started.
"This highlighted the need for pharmacists to be available to offer advice on COVID and ensuring we stayed open to assist patients," he said.
"In August 2021 pharmacists were allowed to administer COVID vaccines. This was a very rewarding service and allowed me to give the vaccination and sit with patients, chat about their health, and answer any questions.
"We decided to change the name to Carter's Pharmacy Gunnedah and the start date was for the beginning of the financial year."
To order photos from this page click here