GOLF:
Perfect spring sunshine made for a beautiful day on the greens last Sunday for more than 80 players supporting the Rotary Club of Gunnedah West's annual charity golf day.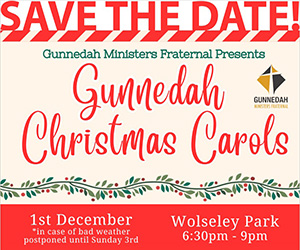 "Mixed teams of all ages competed for the Ian Carrington Perpetual Trophy, named after a true Gunnedah gentleman," Rotary spokesperson Karen Neader said.
"We would like to thank our wonderful sponsors, the Gunnedah Golf Club and all the golfers who turned up on Sunday for making the day such a success. We can't wait to see you all back again next year."
Competition was tight with five teams all within point contention, but the team to finish on top with a respective score of 54 1/8 included Josh Ryan, Courtney Ryan, Matt Agostino and Kyle Newcombe.
In a very close second place on 54 3/8 were Farren Lamb, Blake Small, Anthony Williams and Kieran White. Third place went to Kent Travis-Jones, Nick Clarke, Jessica Pickering and Ryan Sirat (54 ¾), followed by Andy and Donna O'Connell with Christian and Belinda Hardy (54 7/8) .
In fifth place were Matt Robson, Mick Sutcliff, Adam Rees and Brendon Lemon (54 9/8), followed by Shane and Tyler Fleming, Jono Young and Chris Edmonds (55 ½), with Ian Jordan, Courtney Evans, Kylie and Steve Harwood (55 ¾) in seventh place rounding off the point score ladder. The second hole featured the Vision Splendid "hole in one" competition with $1000 up for grabs for a lucky golfer – but it did not go off on the day, although Joe Bunce and Belinda Hardy were awarded nearest the pin for this hole. Three more nearest the pin awards went to Matt Robinson (7th), Tyler Fleming (12th) and Roger Neader (16th). The 'straightest drive' awards for the day went to Leah English and Jessica Pickering.
The Rotary Club of Gunnedah West was chartered in 1970, with members raising funds to support local, district, national and international charities.
The organisation provides a wide range of club, vocational, community, international and youth programs and actively works to improve local amenities for the Gunnedah community.
To order photos from this page click here