FROM THE MAYOR'S DESK, BY CR JAMIE CHAFFEY:
This will be my last message for 2022 as we head towards the Christmas and New Year holidays.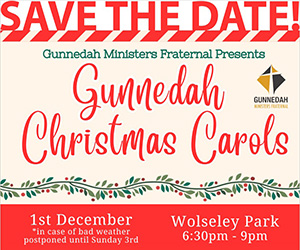 What a year it has been.
We have seen our community grow, the floodwaters rising and falling, and then rising and falling again and again, a new water treatment centre built, a new bridge for Orange Grove Road, and a new Sister City in Kolomotu'a, Tonga.
We are looking forward to construction of Gunnedah's new koala sanctuary, the new hospital, airport upgrade and the completion of the Gunnedah Regional Saleyards redevelopment.
This year, one thing has become even clearer to me than ever before, and that is that Gunnedah shire's people are our greatest strength.
We need to have the infrastructure for people to be happy, safe and healthy, to be employed and to ensure their children a good education, but ultimately, it is the spirit of our people that makes this place what it is.
This year, we have really seen that spirit in full force. People have again been rocked by hardships – by floods and isolation, by damage to homes and businesses and by the skyrocketing cost of living.
But despite this, Gunnedah shire people have not only soldiered on, but they have actively helped their friends and neighbours.
We have seen our proud local volunteers serving in the NSW Rural Fire Service and NSW SES and working tirelessly to help, alongside people from a whole raft of groups and organisations, from the Red Cross to the Salvation Army. People who work for assistance agencies have spent time away from their homes and families to make it easier for our residents to access help.
When a community is tested, you see its true worth, and Gunnedah shire has proven itself over and over again.
This is our community, and we are all responsible for making it a place we are proud of.
We are hoping for a less eventful 2023 when we can continue to build our community and address the effects of this year's flood events. I pray you all are able to spend time with your loved ones, friends and family, and that you are able to make space in your Christmas Day to remember the true meaning of Christmas,and give thanks for all that we have.
Gunnedah Shire Council's office will be closed from 12pm on Friday, December 23 to 9am on Monday, January 9. For closure information about specific services, visit council's website.
I would also urge you to consider nominating someone who has made a significant contribution to the Gunnedah shire community in our 2023 Australia Day Awards.
There are 13 categories you can nominate people or groups for, including everything from Citizen of the Year and Young Citizen of the Year, to Sports Team of the Year and Environmental Citizen of the Year. Nomination forms are available at https://thecivic.com.au/live-theatre–events. Applications close at 5pm on Monday, January 16, 2023, and winners will be announced at the Australia Day Awards Dinner on Wednesday, January 25, 2023.
Have a safe and merry Christmas, and a wonderful New Year.
To order photos from this page click here