Community members turned out in force for Anzac Day services in Gunnedah, supported by many more in villages across the district.
Gunnedah's first ceremony was standing room only as hundreds crowded the town cenotaph in the pre-dawn dark to pay tribute to Australia's servicemen and women.
The traditional Anzac Day march along Conadilly Street heralded the start of the morning service, followed by introductory remarks and a reminder to remember "each man, woman and child who has died so the light of freedom, justice and humanity may continue to shine".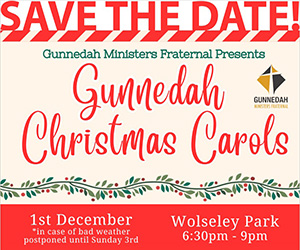 Mayor Jamie Chaffey delivered the prologue and urged that the deeds and sacrifices of young Australians at Gallipoli – and conflicts thereafter – not be in vain.
"Let us take strength in the knowledge and hope that our sons and daughters will never forget the example set by our forefathers," Cr Chaffey said.
"We nurture the obligation of showing gratitude for the peace we enjoy and the responsibility of ensuring the freedom and liberty so costly won, is not lost by indifference."
A prayer of thanksgiving, for the King and our nation was also delivered as well as a prayer for the armed forces and their families.
Gunnedah High School delivered the scripture reading which explained "the greatest love you can have for your friends is give your life for them".
Guest speaker was Vietnam veteran and Gunnedah local Peter Capp who praised his fellow Australians for their support of the occasion and their country.
"That so many of you, now and at the dawn service, have gathered here to support or be involved in Gunnedah's expression of Anzac Day is testimony to the fact that as Australians we share a love for this country, with those who service and sacrifice have preserved for us the values they saw fit to die for, so that we might benefit," Mr Capp said.
"But if the statement is true 'that what unites us is greater than what divides us' then I want to suggest that today is the day to ask 'what is it that unites us?'"
Later in the service, the commemoration to the fallen was read, followed by The Ode – "they shall not grow old as we that are left grow old; age shall not weary them nor the years condemn; at the going down of the sun and morning, we will remember them, lest we forget".
Gunnedah RSL sub-Branch secretary Jan Commins said this year's wreath tribute was exceptional.
"There are more wreaths this year than there has been in a long time," she said.
The service host was also impressed by the light horse tribute at the Gunnedah service – ridden by Steven and Renee Craig – in recognition of Australia's early mounted infantry units.
"A highlight was the march by the horses – it was very moving," she said.
Among those attending Gunnedah's Anzac Day was national serviceman, Kevin Kelly.
He was called up for service in the early 1950s during the Korean War and spent some time posted to Holsworthy Barracks in Sydney.
By pure coincidence, the former Spring Ridge farmer ended up in the same platoon as another local identity, John Strang.
Now happily living in town, Kevin has swapped his usual Anzac Day commemoration venue, Curlewis, for Gunnedah instead which he enjoyed, thoroughly.
"I was very impressed with the spiritual input," he said.
Also in Gunnedah for Anzac Day were Sydney visitors, Dan Galassi and Susan McEvoy, who enjoyed the small-town feel to the service.
"It feels very intimate," Susan said.
"I like how a lot of people make the effort to turn up."
To order photos from this page click here