Showjumping and hack results, courtesy Gunnedah Show Society:
R.W Hyem Memorial 1.25m Grand Prix: 1st William Wood on Veesta, 2nd Ashley Cutler on Licandro, 3rd Brock Harvey on Ego Rock, 4th Katlyn Staples on Spotabug, 5th William Wood on Westie.
JG and RK Davidson Transport 115 -120cm AM7 1st Ashley Cutler on Kinnordy Rhena, 2nd Tayla Ryan on Furiousa, 3rd Katelyn Staples on KC Spotabug, 4th Kate Edwards on Go Kallara, 5th Brooke Garland on Bakers Magic.
Downes Memorial AM7 105 – 110cm: 1st Katelyn Staples on Maverick 3MC, 2nd Ruby Holgate on Findon, 3rd Katelyn Staples on Emmaville Amigo, 4th Kate Edwards on Go Kallara, 5th Katelyn Staples on RR Roll With It.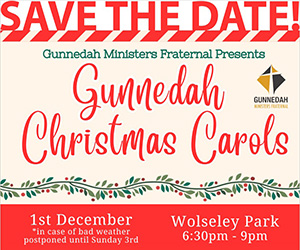 Hennessy Real Estate 60cm AM7 under 18 years: 1st Eva Nelson on Sunbeam, 2nd Jessica Swain on Flashdance, 3rd Lucy Buckman on Myla, 4th Sarah Heenan on Charles Heck, 5th Lucy Buckman on Grease.
Gunnedah Services & Bowling Club 60cm AM7 over 18 years: 1st Tahnee Mills on Viceroy, 2nd Dianne Larkins on Kurrajong Hollow Diago, 3rd Caitlin Jeffries on Street Power, 4th Dale Frew on Zouki, 5th Judy Gengos on Lord of Hearts.
Techenomics Australia 75cm AM7 under 18 years: 1st Mackayla Jarrett on Sweetpea, 2nd Eva Nelson on Sunbeam, 3rd Sienna Robinson on GT Fredsitar, 4th Lucy Buckman on Myla, 5th Scarlet Martin on Oaks Othello.
Pryde's EasiFeed 75cm AM7 18 years and over: 1st Brooke Garland on Oscar, 2nd Lisa Mills on Cobblegully Rockstar, 3rd Diane Larkins on Hustling With Black Magic, 4th Georgia Leppien on Kitara Chandon, 5th Clancey Smith on Bon Henry.
Luke McGrath Farrier Services 90cm AM7: 1st Eva Nelson on Sunbeam, 2nd Annabelle Bernhill on Humphrey Bear, 3rd Scarlet Martin on Orthello, 4th Clancy Smith on Kellahers Tom, 5th Andrew White on Silverpeck.
Barney Hyem Memorial Best Presented Showjumping rider – Emily Pursehouse.
Bob McCrone Memorial for best presented junior rider – Sienna Robinson.
Supreme Newcomer Open Hack: Jade McCusker on St Vincent.
Supreme Newcomer Hunter Hack of the show: Tania Charters on Bellsmountain Portia. Bob & Frances Thomas Memorial Supreme Hunter Hack of the Show: Brooke Edmondson on B.E Rose Gold.
Roger Wotton Memorial Supreme Rider of the Show awarded to Eden Lockhead.

To order photos from this page click here