Gunnedah swimmers proved their winter training and dedication is paying off in the pool with some impressive results and a great turnout at an interclub meet in Tamworth on the weekend.
Baxter Knapman shaved 10 seconds off his best time in the 400m freestyle to finish third. He was just ahead of fellow senior squad member Audrey Hannaford who hit the five-minute mark before she tackled the 50m butterfly, backstroke, freestyle and breaststroke to touch the wall as the first 13-year-old girl in all five races.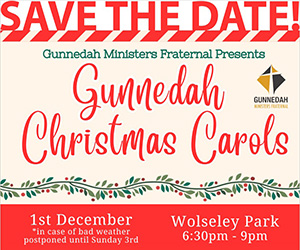 Eugenie Goddard posted five personal best times in all races and powered through the water in the 100m and 200m breaststroke to win the 12 years girls – taking 11.72 seconds off her personal best time in the 100m event and 24.22 seconds in the 200m.
Matilda Denovan (11), also showed great improvement in six races, hitting the wall as the first 11-year-old in the 200m individual medley clipping 5.85 seconds off her best time. She also showed great form to win her age group in the 100m breaststroke, improving her entry time by 6.79 seconds. Matilda also snatched first place in the 11 years girls 50m butterfly, freestyle, breaststroke, backstroke, 100m freestyle and medley.
Alex Thompson (15) collected first overall in the 50m freestyle and 200m freestyle, while Alexis Whitton finished first in the 12 girls in all four 50m races and the 100m individual medley. Brother Cooper (13) placed second in his age group for the 200m freestyle and was the first 13-year-old boy to touch the wall in the 50m butterfly. Liam Smith (11) slashed an enormous 32.92 seconds from his 100m individual medley to place second in the 11 years boys division.
Nine-year-old Cameron Sills had a jam-packed program with 11 races. The 200m breaststroke was among his best with a 14.56 second improvement and a time of 3:44.34 that saw him break the nine years boys short-course club record held by Josh Spinks since 2021 (3:45.02).
Cameron posted nine personal best times including an improvement of 4.68 seconds in the 200m individual medley to finish first in his age group, as well as first in the 50m freestyle and breaststroke, 100m breaststroke, backstroke, freestyle and medley.
Banjo Fitzgerald (9) tied for first with Sills in the 50m backstroke and won the nine years boys 50m butterfly with personal best times in three races. Rafe Denovan (9) posted some massive personal best times eclipsing his 100m individual medley time by 33.58 seconds. The youngster shaved 10.53 seconds from his best in the 100m freestyle and 8.54 seconds in the 100m breaststroke.
There was a strong showing in the Gunnedah junior ranks, with the Burden siblings, Jorja and Lukas, continuing to gain valuable carnival experience, with the 50m backstroke the best race for Lukas. In the eight years events, Max Smith took four seconds off his 50m breaststroke time and finished first in his age group in the four 50m races and 100m freestyle. Matilda Ramien, also 8, improved her breaststroke time by 23 seconds and was the first eight-year-old girl in the 50m freestyle, backstroke, butterfly and the 100m medley.
Tadpole Aiden Sills (6) shaved 6.60 second from his best time in the 50m freestyle, while Madelyn Whitton (7), Kaylee Allen (10) and Pippa Wark (8) all gained experience at a short-course carnival with Pippa taking more than 10 seconds off her 50m butterfly time.

To order photos from this page click here