Gunnedah's premier radio station Triple G has welcomed its first new announcer in 15 years.
Ben Coleman will take the reins of the breakfast program, serving up the latest local and national news as well the best music from the 80s to now.
Originally from Brisbane, the former Queenslander recently spent a year at Moree radio station NOW FM.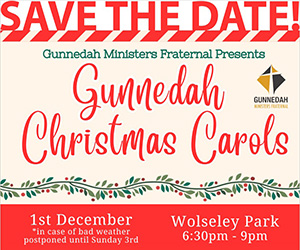 Ben said the opportunity to move to Gunnedah was a great chance to further his long-held passion for the radio industry.
"Ever since I was a child I always loved music and listening to the radio," he said.
"My parents would tell me how when we went to the shops, they would often lose me in the entertainment department."
Ben takes over from 15-year Triple G veteran, Greg Petersen – also a former Queenslander – who was impressed by the newcomer's enthusiasm for local radio.
After more than a decade and a half on the air in Gunnedah, Greg had some simple but important advice for Ben: "Just be yourself," he said.
Greg moves over to Gunnedah's sister station 2MO where his love of community is equally strong, especially for local sport.
"I love the sport of Gunnedah community, it doesn't matter whether it's the gymnastics or the footy, the town gets behind it," he said.
"It is great too that when anyone is down on their luck in town, everyone pitches in to help."
The long-time announcer recalled his first time in air at the Gunnedah station.
"I jumped on in the afternoon, was about 2pm, had Hayley (McAdam) show me where the buttons were, the system we were using and away I went. I loaded some songs and remember saying 'make sure you get the correct back call' and don't say your old radio station' … I managed to do that, so I was pretty happy."
Greg has experienced many changes in the radio industry over the years, not the least the move to online.
He said radio stations had to adapt with the changing media landscape but despite the change, one thing that never wavered has been the community's continued desire for conversation – something the online world couldn't provide (at least in the early days).
"People wanted that one-on-one, even with the online, people still wanted that – that was biggest thing that surprised me," he said.
To order photos from this page click here