By Noreen Boehm.
Boggabri Pony Club associate member, Georgia Byriell has qualified for National Tetrathlon Championships to be held in Melbourne and Perth along with her nine-year-old, ex-race horse, 'I'm A Zaf 'N' Zoff', affectionately known by his paddock name 'Zaffy'.
Tetrathlon is a team and individual competition specifically for pony club. While a pentathlon is five events, a tetrathlon is four events – showjumping, running, shooting and swimming. It is also a major recruiting ground for the Olympic sport modern pentathlon.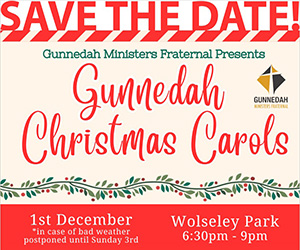 Competing as a Zone 5 Pony Club member in March 2023, Georgia won the State Senior Female Champion and the State Senior Reserve Overall Champion. After the NSW State championships, senior instructor with Boggabri Pony Club, Hayley Yandell-Smith said: "Well done Georgia for all of your hard, hard training and dedication – we are so proud of you."
Georgia started her pony club experience as a three-year-old and her younger sister Ellie in a baby capsule carried by her mum Carla.
Georgia studied for a Bachelor of Fashion at university but her true love has been horses. To fuel her passion Georgie now works five days a week, 8.30am to 5pm in Gunnedah then tends to her own business 'The Hen House' after work.
Training for the swimming component of the sport is completed during her lunch break and after her paid work and quick trip home to tend to her 450 free range hens – that is, collecting, cleaning, packing eggs. If that is not enough, she also tries to go for a run.
"It is usually pretty dark by the time I get to go for a run," she said.
Things are only going to get busier with Georgia and her mum driving the horse trailer to Melbourne so Georgia can compete in the show jumping section of the national championships.
They estimate they will need to allow three days travel with the horse and trailer, compete and then she has three days to get home and head to Perth to compete in the swimming, running and shooting over the next three days.
When asked how she is getting home she said, "we are working on that, Mum thinks I will have to get home quick smart and she will bring Zaffy home while I'm getting to Perth. Dad would like to come to Perth as he has never been there but we will wait and see."
The Gunnedah Times enquired if she had a sponsor and/or a pilot licence which Georgia repied: "No, I'm not sure how it is all going to work but I really want to do it and will just have to find a way to make it work, there is the travel, accommodation and the uniform. Lucky, I have my business which will help.
"I hope to inspire young pony club members and encourage them to aim high and have fun."
Tetrathlon is becoming more popular and gives members a chance to represent pony club at state, national and international level. Riders compete in age groups with the best scores over the four sports deciding the placings.
Georgia competes in the 17 and under 25 age group. She explained her competition is in the female section but she also competes as a team with the boys and has made new friends from across the state.
In the riding phase, competitors have jumping penalties and time penalties deducted from the optimum score of 1400 points.
In the running and swimming phases, competitors have points deducted from or added to, the optimum score of 1100 points based on their performance relative to an optimum time.
In the shooting phase, positive points are awarded for 10 shots on a scaled target with a maximum achievable score of 1090. The optimum score is calculated so that, ideally, each of the running, swimming and shooting phases has an equal influence on the final result, with the riding phase carrying slightly more weight.
Shooting in Tetrathlon often has a great appeal because it is something many people have not tried before. The sport uses laser guns, which are provided for competitions by the organisers, or competitors can provide their own. Competitors 13 years and over, use one hand and shoot at the target boxes 10m away, while younger competitors shoot 7m and can use one or both hands. The target boxes are hooked up to a computer to record the accuracy of the shot.
To order photos from this page click here