Construction is gaining pace on new picnic tables along the Namoi River in Gunnedah.
The set of five tables, all located adjacent the recently completed river pathway, are being constructed by the Rotary Club of Gunnedah.
Rotary's projects director and former treasurer Rod Browne said several concrete slabs for the tables were already completed. This will be followed by installation of picnic tables with work expected to be finished by the year's end.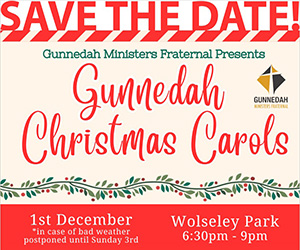 The new tables form part of Rotary's long-running Riverine Project which received a grant of more than $200,000 some years ago under Shenhua Coal's community fund.
This funding has also helped deliver part of the original pathway near Donnelly Playing Fields, concrete bollards, part of road and driveway access in the area as well tree planting.
Mr Browne said about $30,000 in funding was still unused but delays due to COVID and funding arrangements meant the projects were pushed back extensively.
"COVID really threw a spanner in the works," he said.
When time came to install the picnic tables, construction on the pathway extension – connecting Carroll Street to the Dorothea McKellar silo mural – was already underway.
Rotary made the decision to wait until the pathway was complete before starting construction of the picnic tables.
The current scope of works also includes new bench seating to be installed near the playing fields.
Mr Browne said the tables and benches were a revision of Rotary's original plan for grandstand seating at the venue which proved beyond its financial capacity.
"The cost would have been prohibitive," he said.
"There was also the issue of flooding.
"So we have had to scale down [the project] a bit."
Furthermore, Rotary has also provided Gunnedah Little Athletics with a small grant to help restore its long jump facilities.
In other happenings, Rotary was looking at hosting another barbecue fundraising event during Gunnedah's Christmas Fair in December.
Discussion was also ongoing for a similar activity at the carols by candlelight in Gunnedah, similar to its participation last year.
Members are also working closely with fellow Rotarians in Tonga, alongside Gunnedah's sister city partnership with Kolomotu'a in the Pacific island nation.
The Rotary group in Tonga reportedly features several ex-pats who have served in high level positions.
Meanwhile, the membership was also preparing to hold its Christmas function at the Gunnedah Christmas Hams race meet later this year.
To order photos from this page click here