The collection of domestic, commercial and farm waste and its fate is a vital business in the community.
And it is getting more important every year as consumption increases across commercial enterprises, farms and homes.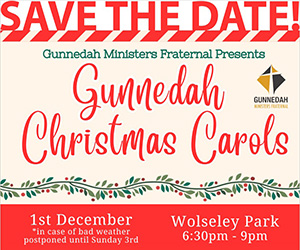 Each day, tonnes of material – bulk waste, liquid waste, the product of a home spring clean, a backyard tidy up, a building demolition or construction, garden waste or a big farm clean up is collected by Gunnedah Trade Wastes and taken away as landfill or recyclable material.
Gunnedah Trade Wastes is a long established, locally owned family business serving the Gunnedah district and the wider region.
The company was launched by Max and Roslyn Hausfeld in 1975.
The couple built the business at 28 Farrer Road, still the hub of the now much expanded operation.
Max and Roslyn's son John Hausfeld joined the business as a driver-operator in 1982, returning to his home town after four years Army service with the First Armoured Regiment, and the family continued to grow the business which now services centres across Gunnedah and the wider district including Quirindi, Tambar Springs, Willow Tree, Boggabri and Manilla. Fay joined the business in 2010.
Nowadays, Max and Roslyn have stepped back from daily involvement but remain very much interested in the operations of the business.
"They are our valuable mentors," said John.
"We are proud of our team and the service we provide to the community," said proprietors John and Fay Hausfeld.
"Gunnedah Trade Wastes is the only locally owned and operated business providing this service.
"We employ nine people and we support local businesses – we believe in keeping locals' dollars in their town – that's our business slogan as well – and always buy locally when possible."
The business has long been part of the community and is committed to ongoing support for local charities and events.
Gunnedah Trade Wastes is focussed on convenient, customer friendly service – in-town customers can order a bin online and out of town services and drop offs can be organised by phone.
"People need only let us know what they would like removed and we will provide the advice and suggestions as to what they need for its disposal," said John. "We customise our service to meet clients' needs – provide the right bin, according to the material and weight, pick it up and take it away."
No removal is too big or too small. Waste volumes collected by Gunnedah Trade Wastes range from very big commercial operations down to homeowners' single bins filled with backyard clean up material. Customers can load their waste material at their own speed – in a day, a week or a month.
"We cover every kind of commercial and domestic waste collection with a comprehensive inventory of plant and equipment, front lift trucks, hook trucks, crane trucks, vacuum tankers and side load rubbish compactor trucks.
"We even have shredders for confidential business and personal documents and destruction of computer hard drives.
"We aim to ensure our customers are happy with the service and in saving them dollars through the best way to dispose of their waste," said John.
"We already offer a complete garbage collection service to farmers – our trucks regularly go past many properties so we welcome hearing from farmers who would like to discuss that service, anyone wanting a regular service or a removal of materials from a property clean up, please give us a call.
Organisation and orderliness means that everything has a place in the busy hub.
Cleaning up is the business of Gunnedah Trade Wastes and the company takes pride in its professionalism – starting with clean vehicles.
"We make sure that we operate clean and well maintained trucks," John said.
"We maintain and service our equipment at our workshop on site and are fortunate to have the services of a qualified boilermaker, an excellent tradesman, Stan, who is fully dedicated to making sure our bins are always well maintained," said John.
"We are very proud of our team – everyone knows just what to do and does it well."
The business has a program of ongoing improvements in the acquisition of new trucks and equipment.
"We started expanding in 2010, employing more drivers – two, then three then four – we now have a staff of nine – our workload has increased as demand grew," said John.
The business takes pride in professional service and operates well within the rigorous regulations around waste collection and disposal.
"We have recently undergone our annual audit for ISO compliance – the standards for the industrial waste management and recycling industry are very high – but we were given full marks – 100 per cent clearance."
John keeps abreast of best practice and developments in the industry and has undertaken extensive studies in Australia and overseas on different options for landfill and recycling.
The future for Gunnedah Trade Wastes is the continued, and growing, provision of locally owned, customised services for the Gunnedah and regional community.
"We will continue to upgrade and maintain our equipment and continue to develop our regional reach to our communities and district farmers," John said.
All about the service
A bag of money, a bolt of silk cloth – both thrown out by mistake, but recovered at the rubbish tip.
"You would be amazed what people throw away when they are having a spring clean at home or are tidying up a deceased estate, perhaps to clear a house ready for sale," said John.
Most things are meant to be discarded, some are not.
Service is everything.
"Once I received a call from an office worker at a local business," John recalled.
"It was in the era when people's pay packets were in cash. The office manager had made up the pays and put the bag with the pay packets in a bin for safety, with some rubbish on top, while she went to lunch.
"One of her colleagues, being helpful, came along and emptied the bin.
"Our collector picked the big bin up as usual and took it to the tip. Later I received an anxious phone call from the frantic office worker – the bag of money is at the tip.
"We went out with her and I started sorting in the piles of rubbish. We kicked through and fortunately, to her relief, found it."
"A customer, accidentally threw out a valuable roll of black silk – we also recovered it from the tip."
This is local and personal service from a local business.

To order photos from this page click here