From classroom teacher in Gulgong to 'big sky country' in air traffic control at Tamworth – Gunnedah's Matt Stanley could not have chosen more diverse career paths.
Now 38, Matt was unsure of what he wanted to do after school so he decided on a Bachelor of Science at the University of New England.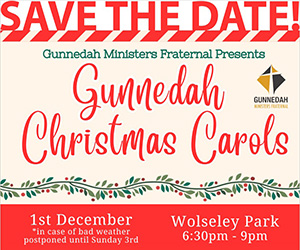 "I was lucky enough to be one of the recipients of the Gunnedah Community Scholarship Fund, which helped immensely with the initial costs of uni life," Matt said.
"After completing the science degree I decided to give teaching a go and did a Graduate Diploma in Education, also in Armidale – at that stage there was a shortage of science teachers so I was able to get a scholarship with the Department of Education."
Matt was educated at St Xavier's School and then St Mary's College, where he was elected house captain in Year 11.
A keen maths and science student – not so much in English – Matt naturally enjoyed and looked up to those teachers, Mr Russell and Mrs Blackmore.
"My English teachers Mrs Russell and Mrs Humphries also stood out for me because they were able to get the best out of me in that subject and also presented the subject matter in an engaging way," he said.
The only son of Jacinta and John Stanley, Matt grew up with his sisters Gabe, Rachel, Karen and Lisa in the family home on Lincoln Street.
With his parents both keen golfers, it was inevitable that he would settle on golf as his favourite sport.
"I have always enjoyed sport and that would have been the best part about growing up in Gunnedah, the sporting opportunities that were available to me," Matt said.
"I had a go at most sports but golf took over in my early teens and that took up most of my weekends.
"Mum and Dad helped out a lot with my golf and we covered many kilometres going to golf events.
Family friend Gary Ford was someone I looked up to and was a good influence on my golf game in my formative years."
Matt's success at golf was reflected in 2000 when he won the Gunnedah Junior Open.
After completing his university degree in 2009, Matt was posted to Gulgong High School, where he taught for nine years.
"I met my wife Emma at Gulgong High School – she was a special education teacher there," Matt said.
"She happens to have grown up near Attunga and her parents Gary and Karen Turner taught at Gunnedah South in the early 1990s.
"We were married in 2012 and lived in Mudgee until I started retraining – we now have two beautiful children Max, 5 and Elsie, 2 who keep us on our toes."
Matt's decision to change careers came about by chance when a news article about the job came across his phone.
"I've always thought that it was a cool job without thinking much more about it, however, this news article piqued my interest enough to look further into it," Matt said.
"The initial part of the application process was easy as it was all online. The job has a very specific skill set, so you are tested thoroughly through the application process to see if you have what they are looking for – the main pre-requisite for applying is having finished Year 12 at school.
"As far as air traffic control goes, you don't do a TAFE course or uni degree – the initial training is all done in house with Airservices Australia at their training academy at Melbourne airport, where they have state-of-the-art facilities, including air traffic control simulators, which makes up most of the practical training.
"The initial training can take anywhere from 12 months to 18 months depending on what type of controlling you are being trained in."
After being accepted, Matt underwent initial training in Melbourne for 12 months before being posted to the Tamworth Tower at the beginning of 2020 to continue field training.
"There were definitely ups and downs during my training," Matt said.
"The initial training in Melbourne was very tough – I had no aviation background and had to learn a lot of new information quickly.
"The first COVID lockdown came a few months after I started at Tamworth and traffic dropped dramatically. In training you need to be tested with higher volumes of traffic to develop ways to deal with the pressures of a high workload – during COVID this wasn't achievable so my training was stretched out longer than usual until August last year when I passed my final check."
Matt is now trained in tower controlling, the other main type of controlling is en route where controllers do their work in front of a radar screen.
"There are about 800 civil air traffic controllers in Australia and at least 600 of them are en route controllers who work at either Melbourne or Brisbane," he said.
"Since starting this career I've had some fantastic opportunities. A few include riding in the cockpit with the pilots of a 737 with Virgin Airlines, being flown around Tamworth by an ex-military pilot who did some aerobatics for me – we even did a flyby of Mum and Dad's house."
With young children and being close to family, Matt and Emma have no intentions of moving elsewhere at this stage.
"There are 28 control towers across the country I could look to transfer to down the track but we are happy to be where we are now," he said.
"Coming from an education background I am also interested in taking on a training role where I would teach new trainees who come to the tower.
Matt's eldest sister Gabe Philpott lives in Brisbane with her husband and three children, along with Rachel (Geier), who also lives in Brisbane with her husband and son, Karen teaches at St Mary's
College, in Gunnedah, and the youngest Lisa (Steele) lives in Gunnedah, with her family and works at the local optometrist.
"Mum and Dad are happily retired and are mostly found on the golf course," Matt said.
Looking back over his career path, Matt said he would recommend a career in air traffic control to anyone, especially students finishing Year 12 who are "good with arithmetic and enjoy problem solving".
"You don't need to have an aviation background – most people don't – and the pre-requisites are minimal," Matt said.
"It is very easy to apply and Airservices will test you to see if you have the skills necessary – you really have nothing to lose in applying and if you get accepted they pay you while you train.
"You just need to keep an eye on the Airservices Australia website as to when they are open for applications. It is an extremely fun and satisfying job.
"Thanks to some of the movies around most people think the job is extremely stressful but I can tell you it's definitely not.
"You are trained to deal with high volumes of traffic and I have many situations that get the heart racing but if you are going to find air traffic controlling stressful, it's probably not for you.
"The more you do this job the more mundane it can seem but there are times when I might be controlling F35 jets training in Tamworth's airspace and I realise that this is pretty cool."
Matt is proud to have grown up in Gunnedah and always enjoys telling people where he comes from: "Living closer now I often get across to visit family and it's been great to see lots of familiar faces and say hi."
To order photos from this page click here