"I have realised that the friendships you make growing up can be the most enduring, and Gunnedah was a great place to be part of – as soon as I know someone is from Gunnedah I feel like I instantly know them. There is something very special about the connections you make there."
Now a highly-respected finance industry thought-leader and educator, former St Mary's College and Gunnedah High student Vanessa Stoykov owns the international award-winning media house Evolution Media Group and is the creator of Channel Nine's show, Learn from the Money Masters. She is also the author of the 'entertaining fable' with a money message – The Breakfast Club for Fortysomethings.
"I met my best friend, Rachel Kirkbride, at St Mary's in Year 7, and we had more laughs and good times in those days as teenagers in Gunnedah than any other time in my life," Vanessa recalled.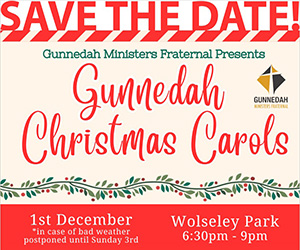 "I am 50 this year – I was actually born in Orange and came to live in Gunnedah when I was in Year One.
"I went to St Xavier's for primary school and then St Mary's till Year 10 and Gunnedah High for Years 11 and 12.
"My Dad Tom worked in the coal mines as a fitter and turner – he worked night shift for many years, so to me, my Dad was home a lot. It was a very idyllic childhood – it was wonderful and very safe, riding bikes around town, swimming in the Namoi, and of course, going up Porcupine Hill, which was my favourite place to walk. We lived in Stock Road so it was close.
"My Mum Sue looked after us – I have an older sister, Marianne, and younger brother, Luke. Mum always did the tuckshop at school and was very involved in our school community."
Today, Vanessa's speciality is money and financial empowerment. She started her business when she was 26, with $14,000 in capital and over the past 26 years has built a media house that creates
TV, books, online learning and live events that are all about empowering people with money.
"A couple of years ago, my company, Evolution Media Group, won a Stevie – an international business award – for our TV show The Secrets of the Money Masters," Vanessa said.
"Making content that gets seen around the globe is very encouraging."
Although her career now revolves around finance, Vanessa says she was in the general maths class at school.
"It never really made sense past Year 8," she said.
"My interests have always been books, public speaking and debating and I loved English, history and economics at school.
"I was never much good at sport, which gave me many moments of angst as a young girl on sports carnival days, until I realised as a teenager that going for the social aspect was the thing to do," she recalled with amusement.
"My parents both encouraged me at school – I was pretty good at it, and loved learning, but I don't underestimate how lucky I was to have two parents who had ambition for me and goals for me to achieve whatever I could dream of.
"I had brilliant teachers in Gunnedah along the way – two of my favourites being Dick Howland for history, Dr Watson for English at St Mary's and Terry Curran for economics. There were so many good teachers who encouraged me along the way."
After leaving school, Vanessa studied journalism at the University of Canberra, where she met some of her greatest friends and loved getting to a place where everyone loved words like she did.
"My first job out of university was at Investor Weekly magazine in Sydney," Vanessa said.
"I moved to Sydney at age 21 and have been here ever since.
"Having my own business has been one of the most rewarding and difficult things I have ever done – there are ups and downs, and certainly a lot of pressure to keep generating revenue.
"I have always been lucky to have our family very involved in the business – my husband Woody was a copywriter in advertising and we worked together for about 16 years, while our three sons Sebastian, Connor and Harrison grew up. They actually took their first steps in the office and were very loved mascots."
Like every other business, Vanessa and her team struggled during COVID but her mantra has always been: "This too shall pass."
Over the years Vanessa and her firm have experienced many memorable moments, including the final TV interview with Commander Neil Armstrong, the first man to land on the moon.
"I spent the last few days with Bryce Courtenay before he died – he was a master storyteller," Vanessa said.
"I have travelled around the world making stories and working with some of the brightest minds in money in the world. I have been absolutely blessed and am grateful every day."
Vanessa believes that money skills are life changing and her goal is to inspire people to reset their lives and their money.
Her simple words of advice for young people growing up in Gunnedah today are: "Have dreams and hang onto them. It takes time, and it takes not giving up – that is the most important part. Never give up on the potential for what you can become and create."
To order photos from this page click here