Boggabri couple, Allan and Noreen Boehm celebrated their golden wedding anniversary on May 12 with a family lunch at Carmen's Restaurant in Tamworth.
Their daughter Vanessa Johnson had made a cake which was to be used as dessert but after a large scrumptious meal it was decided that the family would adjourn to Bendemeer for a weekend of family celebrations, cake and reading the lovely cards and messages from family and friends.
Cards were received from the Governor General His Excellency David Hurley and his wife Linda, the Prime Minister the Hon Anthony Albanese, Federal member for Parkes Mark Coulton and his wife Robyn, member for Barwon Roy Butler, and a certificate of congratulations from the Premier of NSW, the Hon Chris Minns.
Allan was born in Parkes, lived in Sydney during the war and moved to Boggabri with his family at the age of five years.
After school Allan completed a TAFE course and apprenticeship qualifying as a motor mechanic, panel beater and spray painter.
He was working in Golding's garage, next door to the Bank of NSW when on February 2, 1970, Noreen Williams came to Boggabri to work in the Bank of NSW.
After six months Noreen spent two years on the relief staff for the north-west area based in Boggabri.
The longest time spent in a branch was five weeks covering an area from Muswellbrook in the south to Walgett in the west and Armidale in the East and all branches in between.
Apart from seeing each other coming and going to work Allan and Noreen were part of a group of friends who attended the dances and balls at Boggabri, Gunnedah, Baan Baa, Maules Creek and Willala.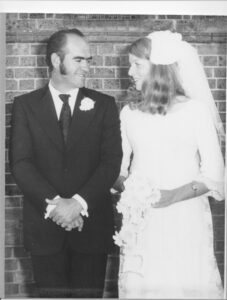 Noreen grew up on the family farm just outside of Uralla with her four younger siblings Helen, Robyn, Ted and Jim.
She attended Uralla Intermediate High School and then completed the HSC at Armidale High School.
Noreen's two sisters Helen and Robyn were her bridesmaids.
Allan's younger brother Ken was his best man and friend Barry Thomson was groomsman.
Allan and Noreen don't have a lot of photos after the wedding as Noreen's paternal grandmother was very ill in Armidale hospital so they decided that instead of having photos, they drove to Armidale to visit Grandma Williams, after all they would be able to have photos with their guests at the reception.
The visit to the hospital was a highlight for numerous patients as the nursing staff wanted Allan and Noreen to visit everyone.
The staff said they had not had anyone in full bridal attire visit on the wards.
The reception photos were not so successful.
Back in those days you had to wait for the film to be developed which could take several weeks, and you guessed it. A couple of films came out blank.
It was interesting on the day when standing outside the church for photos, Allan's sister Moyna came over to Noreen and said: "your mother is wearing the same dress as mum."
Noreen said: "what do you mean, mum is wearing blue and your mother is in paisley?"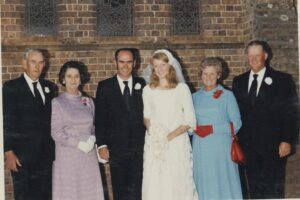 Noreen also knew that the mums had communicated that Lucy would wear sky blue with red accessories and Daisy would wear pink paisley and white accessories.
Who would have guessed that they both would chose the same pattern to make their dresses.
In 1979, Allan and Noreen welcomed their first child Vanessa.
Kym, Christine and Paul followed giving them four much loved and cherished children.
Vanessa is the manager and radiographer at Castlereagh Imaging in Tamworth.
Vanessa and her husband Gary Johnson have three daughters, Megan, Jessie and Kara.
Kym is a paediatric physiotherapist working in Sydney.
Kym and her husband Michael Carpena have one son Quinn.
Christine is an exercise physiologist working in Tamworth and she has a son William.
Paul is a technician with Telstra after spending 10 years in the Army including service in Afghanistan.
Paul and his wife Christine have built their home in Caboolture in Qld.
The five grandchildren are a source of pride and joy to Noreen and Allan.
They both enjoy attending school and sporting events, cheering the grandchildren on and watching them grow into incredible young people.
When not involved with the family, Allan spends his days watching history and National Geographic TV channels and tending his garden and tropical oasis he has created in the back yard with his cycads.
Noreen volunteers at the hospital each week, has been the volunteer presenter of Boggabri community weekly news on radio 2MO since 2013.
She is also the Boggabri correspondent for The Courier and the Gunnedah Times, a position she enjoys immensely.
To order photos from this page click here