The opening of the GS Kidd Memorial School in November 1966 by Minister for Education, Charles Cutler, was the culmination of a scheme which was the most worthy ever performed by a service club in Gunnedah.
It was the late GS (Stan) Kidd, a Lions Club member, who made the preliminary moves in 1964 which resulted in the service club taking up the project as a community service.
A former Gunnedah health inspector, Stan Kidd requested a public meeting in November 1964 to consider the possibility of opening a school for students with special needs. Despite this dream being realised after his death, this wonderful school proudly carries his name.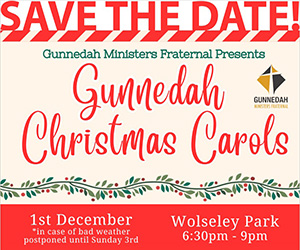 As a result of this meeting, the Gunnedah and District Intellectually Handicapped Children's Association was formed and a temporary school was set up in the Girl Guide Hall, in South Street, with Edith Beasley appointed teacher.
Classes began in March 1965, with Edith Beasley requesting permission for a parents and friends committee to be formed, with a view to fund-raising for a site to permanently house the fledgling school.
What followed was another incredible community effort for Gunnedah, with the GS Kidd Memorial School, in Stock Road, officially opened on November 18, 1966, bringing a new era in education to children, in Gunnedah and district with an intellectual disability – a school financed by the people of Gunnedah.
Community support continued long after the school opened, with finance provided for excursions, clothing and even chemist bills. Edith Beasley was assisted for many years by Anne Frankland.
In 1970, the Department of Education bought the school and with assistance from the community and charity organisations, the school installed a hydrotherapy pool, sensory garden, paved walkway, half-court tennis-court, climbing equipment, sheltered taxi area and table tennis.
The community support was ongoing with the education facility continuing to provide quality education, sporting and life skills to Gunnedah's special children but by 2012, it was obvious that GS Kidd Memorial School for Specific Purposes had outgrown the site and could cater for more students if it had additional capacity.
After much consultation, Nationals Member for Tamworth, Kevin Anderson, announced that a new school would be constructed on a one-hectare greenfield site in Lincoln Street, with room for future expansion as required.
The $6.5 million facility is three times the size of the old premises and was designed by Lockart Architects to cater for 35 students with moderate to high support needs.
The upgrade included the replacement of demountable classrooms with four permanent classrooms, a new library, hall and a hydrotherapy pool, as well as new administration facilities, undercover parking area and a car park.
GS Kidd School was one of 19 schools for specific purposes upgraded by the NSW government using $94 million of residual Building the Education Revolution funding.
There was great excitement when classes began at the new school in March 2014, with the official opening by then Minister for Education Adrian Piccoli and Member for Tamworth Kevin Anderson on September 18, 2014.
On March 29, 2017, the school community celebrated the arrival of a long-awaited mini-bus to increase access for the students. After three long years of fund-raising and support from the Gunnedah community and Variety – the Children's Charity, the bus has proved a real winner, ferrying students to countless community activities, with excursions in and out of town.
One of the many students to receive a quality education at GS Kidd Memorial School was Scott Martin who always loved to dance – Scott was a favourite in the community, he was as light as a feather on his feet and his smile was infectious.
Five years after his death on December 28, 2018, at the age of 51, local residents still remember Scotty, who lived every day with a smile.
Born with Down Syndrome, people did not seem to notice Scott's disability, as his personality shone through and his beaming smile lit up his face.
Scott's love of dancing, hugs and smiles took him to a starring role in the Merry Makers, an extraordinary dance group made up of people with an intellectual or physical disability – sometimes both.
The Merry Makers took Australia by storm in 1991 when they made their award-winning appearance at the City of Sydney Eisteddfod.
This was the first year that disabled people had been able to perform at the eisteddfod with Scott Martin (24) making history as the first person with a disability to take first prize in any section since it began in 1933.
Scott was the youngest of four children born to community stalwarts Joy and the late Trueman (True) Martin who came to Gunnedah in 1968 and immediately threw themselves into working for developmentally disabled children – not just for their son but for every child in the community living with a disability.
It is often said that "it takes a village to raise a child" and GS Kidd Memorial School students have been embraced by the whole community.
Their performances at the annual Gunnedah Eisteddfod are watched with delight along with their efforts in the annual swimming carnival.
Today students who received the benefit of education at the school are either employed locally or making their way in life with the help of carers – all because of the vision of one man and the many supporters who continue to carry it through.
To order photos from this page click here