A Cancer Awareness Expo hosted by Can Assist Gunnedah attracted an impressive line-up of speakers and information hubs, all designed to help cancer patients and their families negotiate avenues for support and financial assistance.
Sponsored by Club Gunnedah, the expo was held in the club's auditorium last Thursday, with guest speakers introduced by Can Assist Gunnedah president, Kate Knight, who revealed that the group had supported 70 local patients in the past year with $39,000 in funding.
Can Assist NSW patient advocacy and external relations officer, Majella Gallagher, presented an outline of funds available through IPTAAS towards travel and accommodation costs when patients need to travel long distances for specialised health treatment.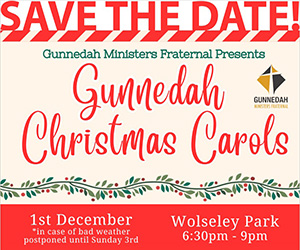 Local pharmacists Lisa Hagley and Courtney Brandon, from Gunnedah Discount Drug Store, gave informative advice on pain management through prescribed drugs and what to do about possible side effects.
Pharmacist Karen Carter and intern Kirra Natty from Carter's Pharmacy presented information on nausea and vomiting during cancer treatment, while emphasising the importance of working closely with the GP and pharmacist.
Diversional therapy, massage and medication were also discussed along with keeping a pain diary.
Community Health representative Jo Lord outlined the many services available, including changes to women's health cervical screening.
The importance of treatment for lymphoedema, a common side effect of some cancer surgery, was outlined by therapists Sophie O'Neill and Jaqui Wood.
The pair run a clinic in Tamworth, providing ankle-brachial pressure index measuring and manual or pump lymphatic drainage.
Help is also available in accessing government funds for the cost of lymphoedema products such as compression garments or wraps.
The ripple effect of stress, anxiety and depression while battling cancer was addressed by exercise physiologist Amy Ross from Rural Fit who spoke about the role of exercise, diet and nutrition in the cancer journey.
Jayne McCarthy from GoCo presented information about the Carer's Gateway for those caring for cancer patients and the importance of registering for My Aged Care for older patients, transport options another support services.
The Cancer Council's Shaen Fraser outlined the research programs underway and the improvement in cancer survival through treatment prevention and early detection. A total of $16 million is directed to research programs per year.
Local GP Bronte Appleton spoke about the role of GPs in supporting patients through referrals and follow-up treatment and support, while also talking about her own cancer journey. She said a GP is someone who can advocate for a patient.
NSW Ambulance paramedic Hayley Hausfeld outlined the new paramedic protocols, pharmacology and education available to paramedics to now provide more palliative care for patients with complex needs and at end of life. She emphasised the importance of having an Advanced Care Directive and letting loved ones know about your wishes early.
Clinical nurse educator Juanita Chaffey and clinical nurse consultant Alison Hofman from the oncology unit in Tamworth offered reassuring information about the many services available and the role of haematologists, specialist nurses, McGrath Foundation nurses, brain cancer and prostate cancer nurses. After referral patients are triaged for specialised treatment.
Among the guest speakers were two cancer patients Jessica Davis and Damien Blinman who spoke candidly about their health journeys, while Kathryn Blinman spoke about her role as a carer for her husband.
Diagnosed two years ago with Stage 4 metastatic bowel cancer, Damien had nothing but praise for the allied health team members who have supported them and Can Assist Gunnedah, while Kathryn spoke about the importance of a positive mindset and holistic health practices along with treatment. Damien also expressed the importance of having legal matters in place, including power of attorney and updated wills.
When Jessica Davis sought medical advice about an unusual lesion on her arm, she soon discovered that she needed support as she took time off work for treatment. A work colleague introduced her to Can Assist and she has nothing but praise for the group who were able to offer support as she had no family close by. She urged others on a cancer journey to "never be too proud to reach out for help".
Can Assist Gunnedah was formed in 1958 to assist locals with financial matters as they face the ongoing expenses of receiving treatment at city hospitals. Over the past 12 months the volunteer group has assisted 70 patients, with $39,000 delivered in support. Each member is a volunteer, patient information is completely confidential and all money raised stays in the Gunnedah shire.
To order photos from this page click here