A wayward wallaby provided Solomon Islander Lince Rorai with a memorable first encounter with the Australian marsupial in Gunnedah.
Mr Rorai, who has been in Australia just 12 months working in the Gunnedah manufacturing sector, was riding his push bike along Conadilly Street last week. Just outside Wolseley Park, he briefly spotted the unfamiliar animal hopping across the road in his direction at great speed.
"I didn't know what it was," Mr Rorai said.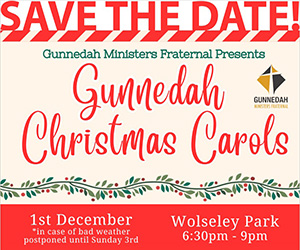 "I thought it might have been a cat, or dog …"
The wallaby had been on an afternoon excursion to Gunnedah's main street – creating confusion for
motorists as it weaved between vehicles and amusement for pedestrians as it hopped its merry way down the footpath.
The small, dark-coloured marsupial eventually found refuge in the carpark of a nearby motel opposite Wolseley Park.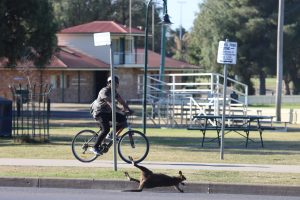 After a few moments rest, the wallaby made one last dash across Condailly Street toward the park in the direction of Mr Rorai who was riding on the footpath.
Slipping on the smooth bitumen, the wallaby quickly regained his footing, err … paws, before jumping the oval fence and bounding away toward the river.
A spokesperson for WIRES, Australia's largest wildlife rescue organisation, suggested this species lost in Gunnedah might have been a young swamp wallaby.
"Swamp wallabies are quite solitary animals so it is common to see them alone, and they inhabit forested areas but they do end up in peoples' backyards quite often," the spokesperson said.
"Occasionally, we do get kangaroos and wallabies ending up in urban environments, usually from crossing roads overnight and then not being able to make it back when traffic picks up in the morning. Most of the time, they do figure out how to get back to their natural habitat on their own, and only in extreme circumstances need intervention by a rescuer to be relocated."
The wildlife rescue group also strongly advised people against approaching macropods (kangaroos and wallabies), of any description.
"For healthy adults such as this one, we recommend keeping a safe distance, giving the animal plenty of space to move off. Trying to contain an adult macropod is extremely dangerous for both the person and animal, as even small wallabies can pack a powerful kick, and they are prone to stress disorders such as capture myopathy. For joeys, we recommend containing the animal in a makeshift pouch or pillow case, and keeping it somewhere warm, dark, and quiet, and contacting a local wildlife rescue to get it to a trained carer. For injured wildlife, it is essential to call a wildlife rescue as soon as possible for emergency intervention. WIRES has active rescuers and wildlife rehabilitators in Gunnedah and the surrounding areas, and if anyone is concerned over the welfare of an animal, they can call the WIRES hotline 1300 094 737 and we can lodge a rescue."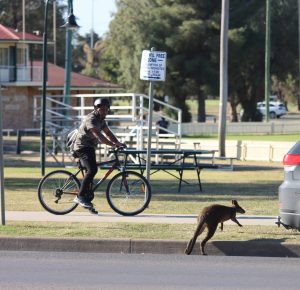 To order photos from this page click here