The Gunnedah business community heralded the start of Small Business Month with coffee and a buffet breakfast at the Railway Hotel on Tuesday.
Hosted by the Gunnedah and District Chamber of Commerce and Industry, the event served up generous serves of bacon and eggs, followed by informal presentations by business leaders in the Gunnedah community.
The meet-and-greet was designed to support, encourage and connect on all things small business while creating new relationships and networks.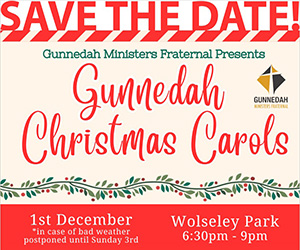 Josh Launders, from the Railway Hotel, discussed team culture in small business.
"In hospitality, the place is built on staff," he said.
Mr Launders highlighted the importance of remaining humble in leadership roles and paying the same respect to the team that you would expect in return.
"Treat your staff how you would want to be treated," he said.
Renee Torrens encouraged good health among small business owners, managers and staff – warning people to be aware of the signs of burnout.
She shared her own experiences of juggling, competing life priorities and the "self care" strategies that worked for her.
"Try to quieten that inner-critic … and being kind to yourself with your thoughts," she said.
Ms Torrens discovered she was most productive in business when her mind was present.
Meanwhile Gunnedah accountant Donna Grant also offered advice on resilience in small business finance and planning.
Ms Grant said a sometimes "less obvious" consideration in small business was the was the liquidity value of assets.
She said the value of assets should be sufficient to cover liability such as suppliers and the Australian Tax Office purposes.
The general advice was that assets should be at least one-and-a-half to two times the value the liability.
More events are planned for the coming days in Gunnedah as part of Small Business Month.
To order photos from this page click here