Flash floods, impassable roads, towns trapped – journalist Laura Hall-Smith recalls her trip from Cowra to Gunnedah:
"On Sunday, November 13 my mum and I set out to return to Boggabri from a week in Warrnambool and Melbourne, towing a horse float, which thankfully, did not have the horses onboard.
We saw severe thunderstorms in central NSW were predicted, but as we drove, the weather held off and did not look too bad, except a heavy, but brief downpour near Gundagai.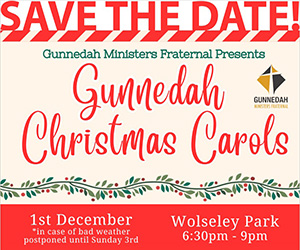 As we turned off the Hume and headed into northern inland NSW, the clouds began to look more ominous and by the time we hit Young, it was raining heavily.
As we drove into Cowra, the weather deteriorated even more and while waiting to pay for diesel, we overheard the men in front of us say they had recorded 80mm to date and were confident flooding would follow.
As it was still daylight, we decided to push forward and make our way to Canowindra and keep heading north.
The further we drove, the more water there was on the roads and 20km into the trip to Canowindra, we had to turn around, with flash flooding heaving across the road, only now passable by trucks.
The u-turn with the float was definitely precarious, with the water rising quickly and I could not see clearly with rain absolutely bucketing down and the sun setting.
Thankfully the police were able to help guide me and just said the rise of the water had caught everyone by surprise.
We then got back to Cowra and reassessed. The Mid Western Highway to Bathurst was open so we headed out that way, with rain seemingly easing. About 6km in, once again, a flash flood, with authorities letting 4WDs through, so we could pass.
Another 2km up the road, another point of flash flooding, which once again, 4WDs were being told could go through.
We proceeded for the next 10km with plenty of water around but the road was okay. That was until we came across a long queue of cars, trucks and even a bus. We had come to the end of the line.
Word filtered down the procession of vehicles that the bridge ahead was impassable, not only covered in raging water, but also a washout. It was time to turn around.
Locals said there was another road to Canowindra we could take, so we formed a convoy and headed back 10km to the road we hoped would lead us out.
We had hardly gotten onto the road when we realised it was not going to work and pushing back to Cowra was our only option.
Once more, I had to u-turn in a very tricky spot, but thankfully, once again, I had help, with my mum getting out into the rain, which had resumed pouring down, to make sure I did not hit soft ground as it was a very narrow road and a lovely local man got out of his vehicle and guided me.
The rain was now torrential again and we were nervous about getting safely back into Cowra, knowing the two spots of water we had already gone through to get up the road, but, as quickly as those flash floods had appeared, they had disappeared.
Despite being equipped to camp, we decided to book into a motel. No vacancy signs were going up everywhere, with many people in the same position as us, stranded.
Thankfully, we found a room and could be snug inside listening to the rain continue to pour down.
The next day, we were unsure of exactly what to do. Wait and hope that the road to Bathurst would open so we could get to Orange, or take the long road back to the Hume highway and circle back out and around.
We were not alone. The motel carpark was full of travellers, maps out, working out what on earth their next move would be.
We waited until 11am, but with no sign of the highway opening, we decided to retrace our steps.
There was plenty of water on the Olympic Highway out to Young, but all passable and open. We were 70km down the road when we heard that the Mid Western Highway had reopened, so we turned around and headed back to Cowra, duly noting there was more water on the roads.
When we had first left Cowra, the river was raging but there was not water near the roads. We came back to a completely different scenario.
There were firetrucks everywhere, water on the roads, the Shell petrol station that we had fuelled up at had water all around. Emergency services were everywhere.
The speed of the water rising was certainly impressive and daunting.
We then left, leaving the chaos that was unfolding behind and grateful we could get out.
As we were leaving we passed the motel we stayed the night at and not 100 metres further down the road, saw that, I can only presume, a big flash flood had occurred the night previously, seemingly after we returned to Cowra.
There was a car flipped, mum said she saw a backhoe on its side. The force of the water must have been something.
As we drove out of Cowra all I could think of was how grateful I was that we decided to leave my horses with my friend in Warrnambool and truck them up so they we were not caught up in the nightmare drive and how my heart broke for all of the communities in the region.
Driving along and seeing the vision from Eubalong, Molong, Canowindra and surrounds made me feel relieved that we had been pushed back to Cowra the night before and so sad for the wonderful communities battling such a tidal wave of water."
To order photos from this page click here