Well known Gunnedah woman Joan Donnelly celebrated her 90th birthday recently surrounded by family and friends.
Joan married Reginald Alfred Donnelly at Christ Church of England in April 1951, and immediately became involved in the football world of the three Donnelly brothers Reg, Ray and Bill (Rocky).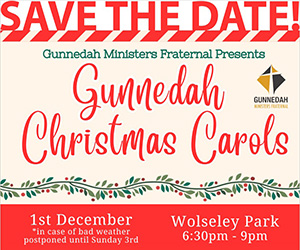 Joan and Reg raised five sons who carried the Donnelly name into the next generation of rugby league in Gunnedah – Brian, Terry, Garry, Phillip and Gregory. With rugby league flowing through the Donnelly veins, Joan's grandsons and great-grandsons are also involved in rugby league.
She proudly followed her boys as they played, always attending their home games. Joan often found herself with the job of washing all the guernseys and having the whole team descend on her home looking for a meal.
Joan and Reg raised their family in a house that Reg and his brother Ray built in Henry Street on the south side of the railway line. Her door was always open for whoever needed it – although if someone knocked at the front door instead of going around to the back steps, she knew they were a stranger.
Joan was born at Gunnedah in February 1933 to Thelma Florence Moss. Her mother died at an early age and she was raised by her grandmother Florence May Moss (formerly Dines). Joan is a Kamilaroi woman with a large diverse family.
While raising five very active boys, Joan was the cook at the Gunnedah RSL, running the kitchen for many years. She also worked at the Gunnedah Hospital.
Reg was a returned serviceman, serving in the 2/3 Australian Commando Squadron during World War II. He enlisted at Gunnedah on July 15, 1943 and was discharged after the war on August 30, 1946.
When her husband died in 2006, Joan was the youngest member of Legacy receiving great support and enjoying everything the group offered. Joan played cards in a social group and was one of the best bingo players in town, hardly ever coming home without a prize or two. She loves a raffle and is known to win most times.
She also enjoyed a bet on the horses each Saturday and later exchanged that for a punt on Keno at the Services Club or a little flutter on the pokies.
Joan helped with providing a meal for the disabled at the CWA Hall every Monday for many years – she either cooked, served, or cleaned up and spent time with those who came there.
A few years after Reg's death, Joan met her partner Noel. They loved packing a picnic, going for drives and visiting family. Noel and Joan enjoyed each other's company for 12 years until his death.
Joan's eldest grandchild Shauna Donnelly described her Nanna as a kind, generous woman.
"She cares for her family and those around her," she said.
"She lived independently until 2019 and kept herself busy, walking each day to keep active and stay connected to the community.
"Nanna stayed living in her home until she left to live at Mackellar Care recently.
"Joan has a friendship with Gloria Donnelly that has lasted the decades. They have been best friends since they were young, married brothers, raised kids at the same time and now both live at Mackellar Care catching up when they can. They are both 90 years strong."
To order photos from this page click here